TRAGER MENTASTICS: Somatic Movement Explorations to Potentiate Touch – Seattle
June 16

-

June 17

$360.00
Focusing on the power of softness, support of weight, and the presence of waves, we'll expand our inner and outer landscape, learn to live and work pain free, and inspire and assist our clients.

Mornings focuses on principles of natural human movement that enhances the sense of freedom, softness, ease, groundedness, and connection. Afternoons challenge you to deepen your personal practice while connecting more meaningfully with others, both on and off the table. 
Day 1, Gravity and Levity
Explore and Apply Sensory Presence, Feel Suspension, Feel Weight, Find and Facilitate Freedom.
Day 2, Fascia and Fluids –
Listening To The Liquid Body
Sustain Curiosity, Take out the Slack, Feel for Fluidity, Wash Out the Fascial Sweater.
This class is open to professionals and students in massage, movement education, mindfulness, yoga and wellness training.  NCBTMB Approved for 12 ce's, 4 of which are for table work. 
What are Trager® Mentastics
Meaningful movement practices for self-care, self-development, and for our work with clients. Dr. Trager coined the word "Mentastics" as a contraction of "mental" and "gymnastics". The term refers to a whole field of practices that grow out of the fertile soil of sensory presence and mindful movement. Mentastics are a process of movement exploration and mind/body development characterized by an open, curious state of mind and used to explore and integrate lighter, freer, more peaceful ways of being.
Trager® Mentastics Course  is a stand alone workshop as well as a course for Trager® Certification, designed for students to experience a deeper level of personal and therapeutic effectiveness and integration.
Course description and objectives:
This course is designed for students in the fields of massage therapy, physical therapy, body-centered psychotherapy, fitness training, yoga, and other somatic practices. Part of the Professional Certification in the Trager® Approach, it can also be taken as a stand alone course.
The class will teach free, unconditioned organic movement practices for greater ease and pain free living that can be applied personally as well as with clients.
Instructor: Roger Tolle RSMT, CTP, Trager Practitioner since 1985, teaches throughout the US and Europe. His background includes a B.A. in Theater and Movement, fifteen years as a professional dancer, extensive study with Dr. Milton Trager, Continuum, Body Mind Centering, Gyrotonics, and Yoga.
"My particular fascination at this time is in using the time I spend with my client in Mentastics as a time to enhance my own personal growth…as a spiritual practice, even. By pausing repeatedly to return to simple presence with nothing added, a state Dr. Trager referred to as Hook-up, I may continually cleanse my mind of worry, attachment and striving, and rid my body of tension and fatigue. As an added benefit, my pauses also serve my clients' need for the time and space necessary to integrate their new feeling experiences."
—Roger Tolle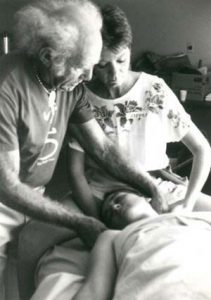 Milton Trager, MD, who became aware of the basic principles at the age of 18, spent over 50 years refining this unique approach to somatic movement therapy and bodywork, achieving high levels of success with effects of Parkinson's, MS, Post Polio Syndrome, Back Pain, Migraine's, and Chronic Pain, while helping patients reconnect to their inherent sense of ageless, ease and joy of movement.
About Trager® The tablework, involving deep, fluid rocking movements (oscillations) of muscles and joints combined with gentle traction and compression, feeds the brain's natural neuroplasticity and induces dramatic muscular relaxation, along with feelings of lightness, freedom, and flexibility. Sessions also include individualized, mindful, somatic movement explorations called Mentastics®. Trager® is a valuable approach for anyone who wants to elevate awareness in themselves and their clients. 
USE THIS PAYMENT OPTION:
USE PAYMENT OPTION ABOVE
DO NOT USE PAYMENT OPTION BELOW AT THIS TIME
Related Classes