TRAGER SIDELYING-Seattle
June 13

-

June 15

$345.00
In this class, we expand on tablework vocabulary with clients in the sidelying position. We'll highlight the importance of bolstering to enhance physical and emotional support for your clients, as well as to keep clear boundaries and deepen Hook-up. You'll be encouraged to develop continually freer and easier movement for yourself at the table, listen more deeply to the tissue responses, and explore a playful balance of Trager principles throughout. Prerequisite: Level 1 and Mentastics (June 16-17th, or previous).
When working with clients propped in the sidelying position, we can comfortably accommodate:
those with tighter spinal structures like kaiphosis, lordosis and scoliosis,

women in the later stages of pregnancy,

the frail elderly,

the emotionally distressed or traumatized,

those for whatever reason are not comfortable lying flat on their backs or bellies.
Instructor: Roger Tolle RSMT, CTP, Trager Practitioner since 1985, teaches throughout the US and Europe. His background includes a B.A. in Theater and Movement, fifteen years as a professional dancer, extensive study with Dr. Milton Trager, Continuum, Body Mind Centering, Gyrotonics, and Yoga.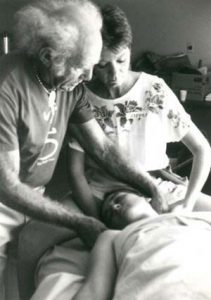 Milton Trager, MD, who became aware of the basic principles at the age of 18, spent over 50 years refining this unique approach to somatic movement therapy and bodywork, achieving high levels of success with effects of Parkinson's, MS, Post Polio Syndrome, Back Pain, Migraine's, and Chronic Pain, while helping patients reconnect to their inherent sense of ageless, ease and joy of movement.
About Trager® The tablework, involving deep, fluid rocking movements (oscillations) of muscles and joints combined with gentle traction and compression, feeds the brain's natural neuroplasticity and induces dramatic muscular relaxation, along with feelings of lightness, freedom, and flexibility. Sessions also include individualized, mindful, somatic movement explorations called Mentastics®. Trager® is a valuable approach for anyone who wants to elevate awareness in themselves and their clients. 
USE THIS PAYMENT OPTION
USE PAYMENT OPTION ABOVE
DO NOT USE PAYMENT OPTION BELOW AT THIS TIME
Related Classes