NW Trager Community Day – Class & Potluck!
September 9 @ 10:00 am

-

3:00 pm

$30.00

Creating Safety in Trager – For Client and Practitioner.
Deeply reaching the unconscious mind follows from feelings of trust, safety and ease for client and practitioner. Learn to facilitate this deeper relationship to allow Trager's magic to flourish.
10am-3pm. Phinney Neighborhood Center, Seattle. Gwen is offering the class for free, we are asking $30 contribution to space rental and future NW class fund.
Potluck To follow class, 3pm – 4:30. Will take place in foyer outside class with tables, chairs and kitchen access. Friends and family welcome.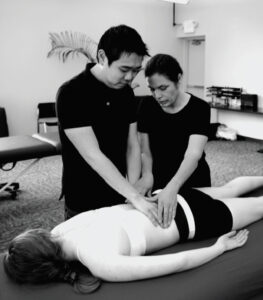 Instructor: Gwen Crowell
 was introduced to the work of Dr. Milton Trager when she went to massage school in Berkeley. She worked with Dr. Trager from 1978 until his passing in 1997. Attracted by the joyful movement and ease of the work, Gwen was delighted to share Trager® first with clients and then with students beginning in 1985 when Dr. Trager selected her as one of his instructors.
Gwen was a pioneer in bringing Trager to Washington and has maintained a private practice since 1979.  Gwen has been a guest lecturer at Bastyr University and teaches Trager certification classes throughout North America, Europe, and Japan. She enjoys participating in the creative process of Trager and witnessing clients and students transform through the power of touch.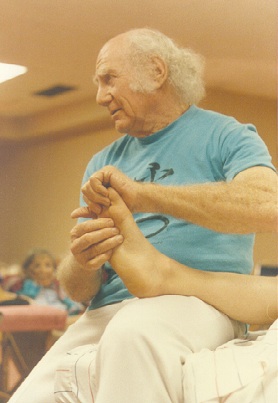 Milton Trager, MD, who became aware of the basic principles at the age of 18, spent over 50 years refining this unique approach to somatic movement therapy and bodywork.
What is Trager®? Trager is a unique, neuromuscular approach to bodywork and movement re-patterning. The tablework consists of deep, fluid rocking movements (oscillations) of muscles and joints combined with compression and gentle traction. This feeds into the nervous system resulting in dramatic muscular relaxation, along with feelings of lightness, freedom, and flexibility. The client is also shown simple exercises called mentastics which help integrate the profound changes in the body.